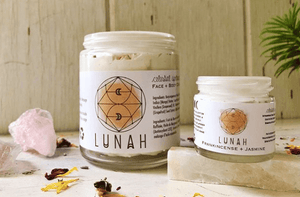 This luxurious cream smells like heaven and melts on contact.  An ultra-healing cream, this celestial product is suitable for both day and night, following our 3-in-1 balancing Toner.
We use the ancient East Indian beauty oil, Neem, in order to hydrate skin, fight breakouts, and keep wrinkles at bay. Neem Oil contains antioxidants, carotenoids, and essential fatty acids which can diminish the appearance of fine lines and wrinkles.
Frankincense is used as it's amazing for skin health, working to reverse the signs of aging, and reduce the appearance of stretch marks and scars. Jasmine extracts encompass the jar, as they aid in increasing the skin's elasticity and help balance moisture to naturally reduce dryness.
HOW TO:
Apply both morning and night to face and neck for daily repair and protection from environmental damage. Use all over the body to rehydrate and nourish skin. Massage into trouble areas (acne, rashes, psoriasis, eczema, etc.) to help rebalance and heal.
Refrain from storing or leaving in direct sunlight or hot car - the product will melt.