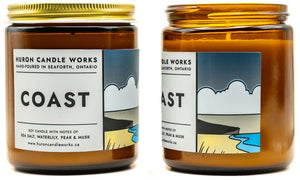 Open this candle, close your eyes and smell the water, hear the waves and feel the wind. This fresh scent is the epitome of the Huron coastline. The Bluewater Shore is the coastline that runs up the coast of Huron County and adjacent counties. The long stretches of white sand beaches, lush forests and crystal clear waters will take you to a happy place!

If you miss the summer spent outside near the water, this will bring it all back to you. Stressed at work? Place one of the Coast candles near your keyboard, unlit, and let the soft scent relax you!

This candle has a subtle, soft scent that is comforting when unlit (cold throw) as well as a cozy warm scent when lit (hot throw).

This candle has notes of Sea Salt, Waterlily, Pear & Musk.

Burn time for this candle is approximately 40 hours.