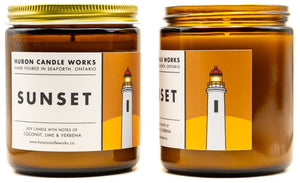 Huron County is known for its sunsets. What better way to end a day, than enjoying a perfect evening with the sun setting across the water or fields. This soft scent is infused with memories of the setting sun. Soft and gentle, this scent will be the perfect companion while you relax with a good book, friends or even a movie!
Want to give a little love? The Sunset soy candle makes a perfect gift for anyone who wants a little more light in their life!
This candle has a subtle, soft scent that is comforting when unlit (cold throw) as well as a cozy warm scent when lit (hot throw).
This candle has notes of Coconut, Lime & Verbena.
Burn time for this candle is approximately 40 hours.