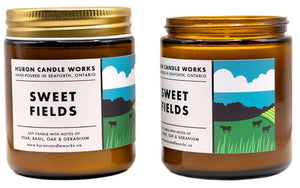 Huron County is well known as a productive and fertile agricultural region in Ontario. Bright yellow, gold and green fields stretch to the horizon, creating patchwork fields with crops and grazing land for animals.

As you dive the country roads, windows down, driving tunes playing, you also get the added treat of the sweet smell of fields enhancing your drive. Yes, even at times, a bit of manure has a sweetish smell – the smell of crops growing, farmers working, and food on our tables.

This is a special candle that celebrates the tireless farm families that rise before us and often harvest long after we have gone to sleep. Our, Sweet Fields soy wax candles are created to honour of the farming tradition of Huron County.

This candle has a soft scent that is comforting when unlit (cold throw) as well as a cozy warm scent when lit (hot throw).

This candle has notes of Pear, Basil, Oak & Geranium.

Burn time for this candle is approximately 40 hours.