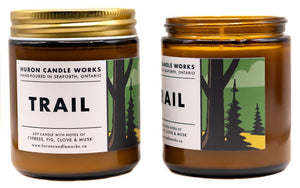 Here in Huron County, we have many wonderful trails through dense evergreen forests, along perfectly tended fields and following clear flowing rivers.

When you light your, Trail candle, the first thing that hits you is the soft scent of pine needles underfoot, quieting your walk. Then, comes the gentle, freshness of a clean, living forest allowing light to penetrate to the forest floor. How do we manage to create such an experience? Just try one and feel what we feel when we go one walks through so many trails in this region.

Take a Trail, soy wax candle home or to your office and enjoy the scent that will comfort you and provide a calming effect that everyone can use these days!

This candle has a soft scent that is comforting when unlit (cold throw) as well as a cozy warm scent when lit (hot throw).

This candle has notes of Cypress, Fig, Clove & Musk.

Burn time for this candle is approximately 40 hours.