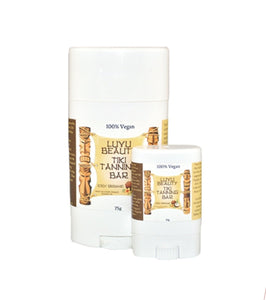 Description

Escape to paradise with this tropically tantilizing 100% organic Coconut Oil bar. Using Coconut Oil is one of the oldest traditions carried on by Islanders to our far south and has been long known to be a natural reflectant and protectant from the burning UVA/UVB rays from the sun, yet allowing a gorgeous golden tan to form without the burn. LUVU Beauty Cosmetics has combined soothing organic moisturizing butters with the miracle ingredient, Coconut Oil. This not only gives you a golden, almost unheard of tan while soothing, rejuvenating and replensihing.

Don't Be fooled, this Bar helps with any and everything. The Tiki Bar can be used on the whole body, after showering as a body moisturizer, under arms for a light deodorant, helps to relieve itch from bug bites, as a Tattoo Balm, hair defrizzer, cucticle cream, nipple butter, foot moisturizer, makeup remover, highly effective stretch mark cream and so much more!
Suggested Use

Building skin immunity. For the first 3 days of using, apply topically to the exposed skin every couple hours, especially after swimming or activities. Apply enough that it will absorb into the skin, but not excessively where it will rub off on clothing. After the first seven days of continuous use, apply regularly when the skin is exposed.
Ingredients

Organic Coconut Oil, Organic Shea Butter, Organic Cocoa Butter, Organic Aloe, Organic Mango Butter, Organic Carnuaba Wax, Vitamin E