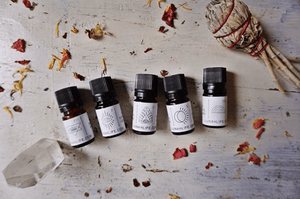 Use these blends to diffuse, add to your DIY creations, or blend into your own skincare routine. About 100 drops in each 5ml bottle
0 "The Infinite Number"
Use this blend to motivate and improve your mood. A happy, uplifting blend! The delicious scent of the Detox Polish and Hand + Body Lotion.
Citrus blend plus vanilla bean, benzoin and natural coconut flavouring. Essential Oils of Grapefruit, sweet orange, lemon, lime, lemongrass, benzoin, vanilla, tangerine, Geranium, benzoin.
111 "The Number of Angels"
The warming and sensual scent of our body oil. This blend has compassionate and healing feminine energy. It is energetically cleansing, grounding and relaxing.
Essential Oils of Palo Santo, Vanilla, Bergamot, Rosewood, Jasmine 
7 "The Number of Seeker / Truth"
The contagious aromas of our lovely whipped butter cream. Sleep soundly with this gentle blend of Jasmine, Benzoin, Vanilla, Patchouli, Frankinsence, Sweet Orange, Vetiver.